Comments from Professionals
"Thanks for making scheduling an appointment so easy."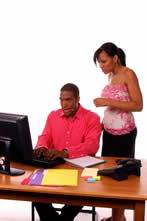 "Customer service has been outstanding! Because I hardly know how to turn on my computer, HES was patient and very helpful."
"I wish my doctor and dentist would use this system."
"I have referred many colleagues to this system."
"Current clients love the
flexibility of checking their schedules at home."
"It helped fill my schedule with new clients who were surfing the web looking for help."
"My clients absolutely love the fact they can leave a message cancelling an appointment and then jump on the Internet to reschedule avoiding the hassles of voicemail and telphone tag. Thank you very much!"
Comments from Clients and Customers
"This was totally cool, I scheduled my appointment
and my therapist called me back within the hour."
"I really liked having the privacy of just talking to my therapist."
"My wife and I looked at the times and
coordinated our schedules, then set the intake appointment."
"Rescheduling was much easier. I just jumped online and scheduled another appointment."